Client Success Stories
Here's What Our Clients Have To Say…
Vertigo free in just 4 months

Going thru my horrible experience with the vertigo, I felt like my world was upside down. I couldn't walk with out feeling like i was on a horrible ship, and my vision felt like it was fuzzy and delayed. Thru doing some of these exercises with eyes and head movements and balance, I was able to help my body re-balance and settle down. It didn't feel like it was doing much at first, but as I continued to do the exercises, It made actually a Huge difference! When I started to see results, I would play games to see when I didn't do the exercises compared to when I did, And it always proved that after the exercises, I would get more relief! It didn't happen over night, but I kept determined and patient and remembered that my body was healing and went slow so I wouldn't over do it, Patients was the key factor. As the exercises got easier to do, that was when I knew that my body was defeating the challenge which allowed me to progress to the next one. I am so happy to say that I am now Vertigo Free after almost 4 months!
After working with Bobby I didn't think the body was so complicated and that there was so much to vertigo… He assessed what was going on with my body and got rid of some tension in the back of my neck which was making me feel dizzy. After a few sessions this tension went away and I no longer get dizziness from this area.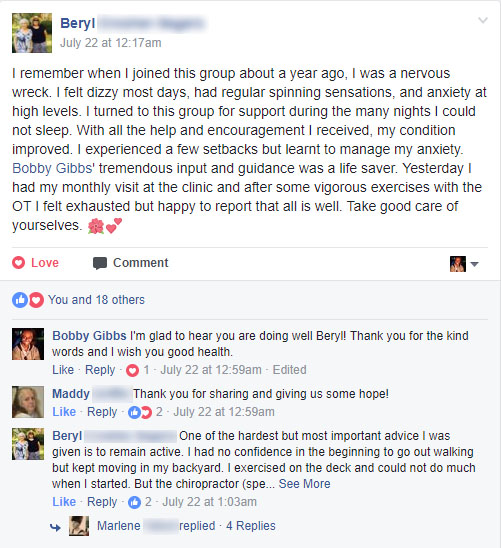 I'm so glad I made this decision.
I found Bobby on the Cure Vertigo Now online group. At the time I was very confused, upset, and felt I needed guidance for my recent diagnosis of vestibular migraines. After going back and forth through the online site, I decided to work with Bobby one on one as my vestibular coach. I had been going to a physical therapist, but found the environment overstimulating and created my vertigo to be worse. So I entered into an online, live video feed relationship with Bobby as my personal coach. We met over a 4 month period. I'm so glad I made this decision. Although we worked on my issues with vertigo, he virtually 'held my hand'. We was able to walk me through the other issues when living with VM. He coached me through depression and anxiety, which go hand in hand with VM. His goals were broken down, just for me. When I had a question, he had an answer or exercise. Words I would use to describe Bobby include: compassionate, knowledgeable, professional, excellent listener, positive feedback, and trustworthy. Bobby doesn't give up and I appreciate that I could reach him almost 24/7. His response is well within an appropriate timeframe, which I found very important. Bobby helped me get my life back and I know without a doubt, he would be readily available as I need further coaching.
It worked like a charm. Ever since last Christmas dizziness has taken over my life. It was also much worse for me outdoors but once I started to improve my balance and learn to relax more that's when things really started to make a difference.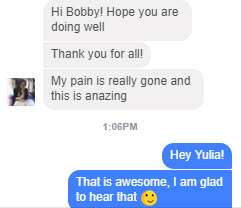 I highly recommend this to anyone with any type of vertigo.

I have been suffering with vertigo for several years now. I was fortunate to come across a great helpful program called "cure vertigo now" that outlines very helpful exercises and tips that are very helpful. The author, Bobby, is wonderful as well. He will answer questions and patiently describe the tips and any educational info to help. I highly recommend this to anyone with any type of vertigo. Bobby is very knowledgeable about all the causes and how to treat. A must have for those like me who suffer with any kind of dizziness or vertigo
Good, good, good. My vertigo has decreased in the space of just a few days. Whenever I go out traffic would always make me feel sick. I've noticed that this hasn't happened lately. Can't wait to see more results in the future.
I suffer from TMJ and dizziness. Went for a treatment session and after a few days I felt my dizziness reduce. Grinding my teeth was intense at night for me and would normally make me feel dizzy during the night. Even though I still get some grinding at night, this and the dizziness has reduced in just 1 session. Looking forward to more sessions in the future. Thank you